AssureLink®  In-Home Unit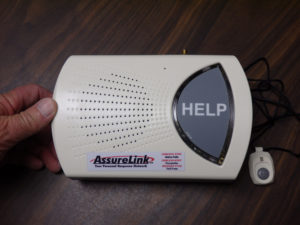 Cellular OR Landline
24 hour monitoring service to access needed help through 2-way voice communication.
Automatic battery back-up in the event of power failure.
The AssureLink® pendant/wristband is fully water resistant.
The equipment performs a weekly "silent self test" to ensure that the system is working properly.
Medicaid reimbursable in most states for HCBS eligible participants.
Other services available at additional cost:

Optional personal reassurance calls
Fall sensors

AssureLink® customers are equipped with an emergency pendant or wristband. In the event it becomes necessary to summon assistance, they can simply press the emergency button. The customer is immediately connected with our 24 hour monitoring center, where our professional and caring dispatchers can participate in a two way conversation with the customer to determine what assistance is needed. If the customer is unable to respond, assistance is summoned immediately. Our 24 hour dispatchers use important information which has been provided to them by the customer and loved ones, to ensure that we are able to contact family, friends, physicians or other health care providers in the order in which the customer requests. With AssureLink®, help is just the push of a button away!

Contract & Pricing

Options
Cost
Activation Fee*
Landline
1 Year Paid UpfrontBest Value!  $370 = $30.83/month
– OR –

Monthly $35

FREE!
GSM (Over cellular network)
1 Year Paid UpfrontBest Value!  $424 = $35.33/month
– OR –
Monthly $39.50
$50.00

Fall Detection Monitoring   additional $36/year or $3/month

*Activation Fee – is one time and nonrefundable.

| | | |
| --- | --- | --- |
| COMPARISON! | Competitors |        AssureLink® |
| Equipment Cost | Up to $300 |         FREE USE |
| Activation | Up to $50 |   FREE with landline |
| Contract | 1-2 years |         NONE |
| UL Approved Call Center | Some |         YES |
| Locally Owned | Some |         YES |
| Discount Plans | Some |         YES |
| Prompt Repair Service | Sometimes |         YES |
| Prompt Technical Support* | Sometimes |         YES |

* Generally within 24-48 hours unless client specifies otherwise.